Q4 2016 email trends and benchmarks
Every customer interaction, whether there is an engagement, purchase or, even lack of response, provides context for future communications between brands and their customers. Marketers that are able to leverage data and insights to understand their customers and deliver contextually relevant content in the moments that matter most will continue to see the best results. This requires marketers to use their own data, as well as industry benchmarks, to better understand their customers.
So where do you begin? Continuously analyzing your email program results alongside benchmark data will help you identify areas of opportunity for your customer-engagement program.
Download the full report to learn:
---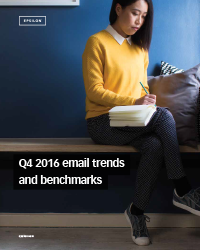 Q4 2016 email performance trends by industry and message type
Insight into how the average company performed across multiple industry categories
Overall performance of an average email file across industry categories including behavioral segments
*Required