Millennials are still all the rage,
but what about boomers+?
Age is an attitude: marketing to the boomers+ population used Epsilon data to determine that for baby boomers and the silent generation, finances is more important than age.
Download the report to meet:
---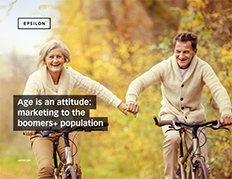 Big Spender Bill (Age 50–69) & High Roller Hank (Age 70+)
Gourmet Glenda (Age 50–69) & Affluent Arlene (Age 70+)
Thrifty Thelma: (Age 50–69) & Frugal Fran (Age 70+)
Comfortable Charles (Age 50–69) & Solid Standing Saul (Age 70+)
Downloading the report also grants you access to our tip sheet,
providing advice on how to take action on the findings!