Q2 2017 Email trends and benchmarks
Desktop opens are on the rise while mobile opens are on the decline. Click rates for the travel industry have increased over five percent compared to last year. Email is constantly changing, especially depending on your line of business.
To keep you up to date, Epsilon aggregates data every quarter from over 13 billion emails to give you trends and benchmarks so you can see where your email campaigns stand.
Download our report to learn about:
---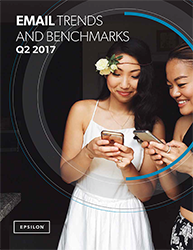 Statistics from your specific industry to see how you line up to your competitors.
Overall trends in the email industry so you can know how they will affect your campaigns.
Actions you can take to connect with your consumers on a deeper level.
Tips from the email experts so you can build better email strategies.