It's time to retire the idea of 'man versus machine'
We live in a world of humans and machines – and in our technology-driven world, this co-existence will increasingly inform the way we build connections with customers across experiences and devices, and how we interact with them in real time.
As a data-driven growth engine for clients, Epsilon views every new technology and trend through a behavioural lens to understand why consumers gravitate to specific technologies – and how those establish and amplify new behaviours.
Our new trend framework focuses on the core behaviours driving technology adoption and engagement. The framework examines all of the key trends that will drive consumer behaviour in 2018 and beyond.
Download the 2018 report to find out how:
---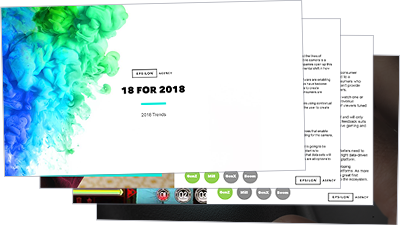 Emerging technology that empowers consumers is key to unlocking experiences
Your brand can leverage artificial intelligence to enhance consumer interactions
To develop experiences that seamlessly interact between physical and digital in a constantly changing environment